Night and Day
by S. David

Belief is strong
And believers
See in their
Belief
Things others
Do not
And a tree
Trunk offers
A vision
Of Mary
Holy Mother*
And sailors
At sea saw
Mermaids and
Mermen by
Night and day
And one might
See either
Or both as
They sailed
the Seven Seas
Before
The last
Century
©S. David 2009

*AP 7/9/09 Dublin report "Irish Catholics say tree trunk looks like Mary


Painting included in
"The Cryptopedia" A Dictionary of the weird, strange and downright bizarre
by Bram Stoker Award Winner Johathan Maberry and David Kramer.
"The Cryptopedia" also won a Stoker Award in March 2008

"Night and Day"
Water Color -16" x 20"
Can be hung either way to suit your mood
This original watercolor is available for sale. To purchase contact: alanfbeck@earthlink.net


.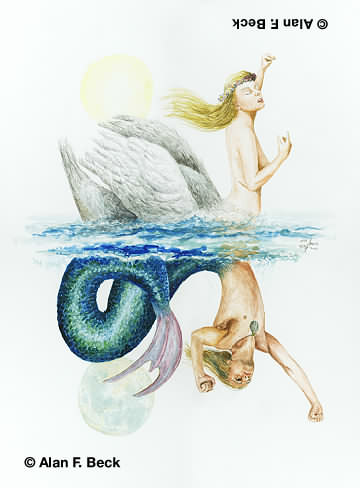 All original artwork on this site is copyright by Alan F. Beck. Unauthorized use of images is forbidden. If you wish to use any images, please e-mail me for permission . To purchase original art or prints, please e-mail for details.